Hello!
Setelah 2 bulan mangkir dari meme sendiri, saatnya bangkit dari keterpurukan *halah
Buat yang baru pertama kali lihat, Dare to Say adalah meme yang saya buat untuk menyalurkan aspirasi saya. Berbagi pendapat kita tentang buku yang kita baca dan tidak sesuai dengan ekspetasi, dugaan atau pendapat orang lain.
Boleh banget cerita ekspetasi awal sebelum baca gimana, setelahnya gimana. Cerita soal pendapat orang saat tahu pendapat kita tentang buku tersebut juga boleh, kok! Bebas 🙂
Nah, sekarang, saya akan cerita tentang buku yang saya baca belum lama ini, buku karangan Neil Gaiman. Ada yang bisa menebak?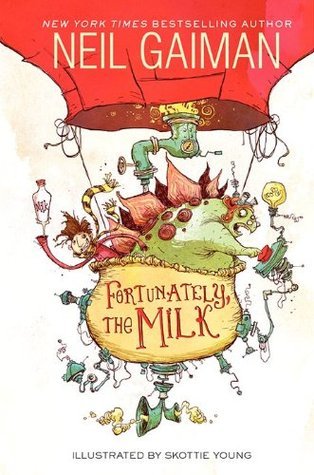 Rate awal: 5*
Gimana gak?
Saya pencinta buku anak. Apalagi yang memiliki ilustrasi menarik. Review dari teman-teman saya pun sangat membangkitkan rasa ingin tahu.
Tapi mungkin itu juga yang membuat saya jadi punya ekspetasi tinggi dan malah kecewa saat tidak mendapatkan apa yang saya harapkan.
Berasa datar saja dan cenderung bosan. Yang ada di pikiran saya adalah, "Iya, saya tahu Daddy-nya punya daya khayal yang tinggi dan ada-ada saja. Tapi, terus kenapa?" 😐
Teman saya bilang, mungkin karena saya baca di hape dengan layar kecil jadi kurang menikmati. Bisa jadi benar.
Mungkin juga kadar humor saya sedang rendah-rendahnya. Bukan awal yang indah untuk saya dan Mr. Gaiman tapi saya masih penasaran pengin baca bukunya yang lain. Walau, mungkin sebaiknya saya gak tanya pendapat teman dulu daripada kecewa lagi 😛
Rate akhir:  3*
Kamu ingin ikutan berbagi juga soal buku yang gak sesuai ekspetasi kamu? Silahkan!
Follow Book-admirer atau tambahkan di blogroll kamu. Bisa juga follow lewat email
Buat posting tentang buku yang kamu baca dan ternyata tidak sesuai dugaan, harapan, rating GR, rekomendasi teman, baik lebih bagus atau lebih jelek. Kasih tau apa yang awalnya kamu harapkan (rating awal) dan apa yang kamu dapatkan (rating akhir). Underrated or overrated? 😀
Oh ya, boleh juga kok kalau kamu mau share pengalaman kamu tentang komen yang muncul soal buku yang udah kamu baca/review. Banyak yang menganggap kamu menilai suatu buku terlalu rendah/tinggi? Silahkan sampaikan pembelaanmu dengan baik 😛
Masukkan link postingan kamu ke Mr.Linky yang sudah disediakan di akhir post. Kalau mau, boleh tambahkan button 'Dare to Say' juga di postinganmu 😀
Posting dilakukan setiap tanggal 23. Tapi, Mr. Linky akan dibuka sampai dengan tanggal 22 bulan berikutnya. Jadi, waktu posting tetap satu bulan 😀
Penasaran pengen baca pengakuan para pembaca buku, kan? Rajin-rajin ya, berkunjung ke sesama peserta! 😉
Cheers!