Selamat datang tanggal 23!
Saatnya berbagi cerita soal buku yang tidak sesuai dengan harapan, ekspetasi atau dugaan kamu. Baik lebih bagus, atau lebih jelek 😀
Kali ini, saya akan bercerita tentang buku yang sama sekali bukan genre saya. Graphic novel, horror pula! Saya, si pencinta tulisan dan penakut, gak cocok banget sebenarnya baca buku seperti itu XD
Tapi saat teman saya memberikan link buku tersebut dan saya cek website penulis, saya tertarik dan memberi kesempatan untuk buku tersebut.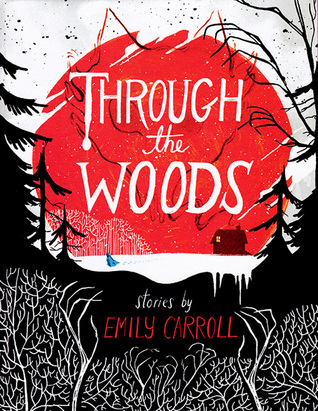 Rate awal: 3*
Berhubung buku ini bukanlah genre favorit, malah tergolong genre yang sangat saya hindari, saya tidak punya ekspetasi tinggi terhadap buku ini.
Saya memang suka dengan gambar yang dibuat oleh sang penulis. Biasanya saya agak menghindar dari graphic novel (gravel) karena takut kecewa, gak cocok sama ilustrasinya.
Walau sebenarnya saya suka ceritanya dan memang seru membayangkan cerita tersebut dibuat ilustrasinya. Sayangnya, saya beberapa kali kecewa saat membaca gravel.
Seperti gravel Hobbit yang tidak bisa saya nikmati. Atau gravel The Little Prince yang akhirnya saya abaikan karena gak nyaman lihat gambarnya.
Nah, saya cocok dengan gaya gambar Emily Carroll. Tapi, saya tetap tidak berharap lebih.
Kenapa? Saya tidak suka horror bukan tanpa alasan. Buat saya, kebanyakan cerita horror tidaklah masuk akal.
Oke, memang horror adalah misteri, yang berhubungan dengan makhluk gaib dan semacamnya.
Tetap saja seringkali buat saya horror itu cuma kuat di bagian seremnya, tapi terus udah, gak jelas. Plot cerita berantakan. Karakter gak jelas. Pokoknya, mengecewakan.
Saya akui pengalaman tersebut adalah pengalaman saat saya nonton film. Belum pernah saat baca buku, karena selalu saya hindari. Kesel gak sih, kalau udah ketakutan tapi sekaligus gedek karena kecewa sama jalan ceritanya? Percuma dong, segala ketakutan saya! *banyak mau, Zel! *ditabok
Jadilah saya tidak berani pasang target tinggi untuk buku ini. Cukup 3* saja.
Tapi ternyata saya diberikan gambar yang keren. Karakter menarik. Cerita yang bikin bergidik. Pokoknya, OK!
Saya sudah review buku Through the Woods di sini. Silahkan dibaca, ya 🙂
Rating akhir: 4*
Sedihnya, buku ini tidak berhasil masuk final dari Goodreads Choice Award 2014, kategori Graphic Novel 😦 Padahal saya sudah super girang saat buku ini masuk Semi Final.
Tak apalah, buku ini tetap akan punya posisi khusus di hati saya. *geser dikit buku lain biar ada tempat.
Kamu ingin ikutan berbagi juga, seperti yang sudah saya lakukan? Silahkan!
Follow Book-admirer atau tambahkan di blogroll kamu. Bisa juga follow lewat email
Buat posting tentang buku yang kamu baca dan ternyata tidak sesuai dugaan, harapan, rating GR, rekomendasi teman, baik lebih bagus atau lebih jelek. Kasih tau apa yang awalnya kamu harapkan (rating awal) dan apa yang kamu dapatkan (rating akhir). Underrated or overrated? 😀
Oh ya, boleh juga kok kalau kamu mau share pengalaman kamu tentang komen yang muncul soal buku yang udah kamu baca/review. Banyak yang menganggap kamu menilai suatu buku terlalu rendah/tinggi? Silahkan sampaikan pembelaanmu dengan baik 😛
Submit link dari postingan kamu di kolom komentar post Dare to Say per bulannya. Kalau mau, boleh tambahkan button 'Dare to Say' juga di postinganmu 😀
Posting dilakukan setiap tanggal 23. Tapi, masih ditunggu sampai dengan akhir bulan untuk share postingnya 🙂
Penasaran pengen baca pengakuan para pembaca buku, kan? Rajin-rajin ya, berkunjung ke sesama peserta! 😉
Cheers!